The Museum of Mediterranean Interweaving in Castelsardo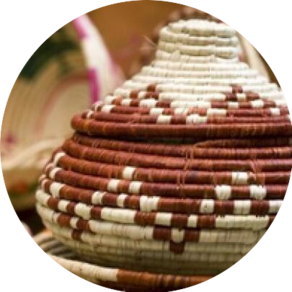 The art of weaving in northern Sardinia
Castelsardo's Museum of Mediterranean Interweaving (MIM) is located inside the town's striking medieval castle, the Doria Castle.
The castle was built in the 12th century by the noble Genoese Doria family as a military stronghold and still dominates the panorama of this charming village.
The museum aims to preserve theancient tradition of handwoven baskets . It collects a wide variety of artifacts, woven with plant fibers from Sardinia and other Mediterranean countries.
It isunique because of the vastness of the exhibition and the uniqueness of the museum tour. It also boasts a wonderful panorama, visible from the top of its stands.
The tradition of weaving is of strategic importance in the town of Castelsardo.
Local elders tell that in hard times such as wars, people were able to make a living from these baskets that were used to collect and store grains, bread and other supplies.
So they were coveted commodities, providing employment and livelihood for the population.
Going around the characteristic streets of the old part of the town, you can see the baskets displayed near the doors of the stores and workshops, colorful, decorated and in the most diverse shapes. In the contemporary age they have become original and design elements of furniture.
---
Photo by larrywkoester on Visual hunt